Jun 19, 2022 04:15 PM Central
Lisa Jock
As the gatekeepers of our homes we have such a great opportunity to bring in healthy products and create healthy habits for ourselves and families. Capture the spirit of summer with these three sun-sational blends designed to whisk you away to where the living is easy. Easy button for sure!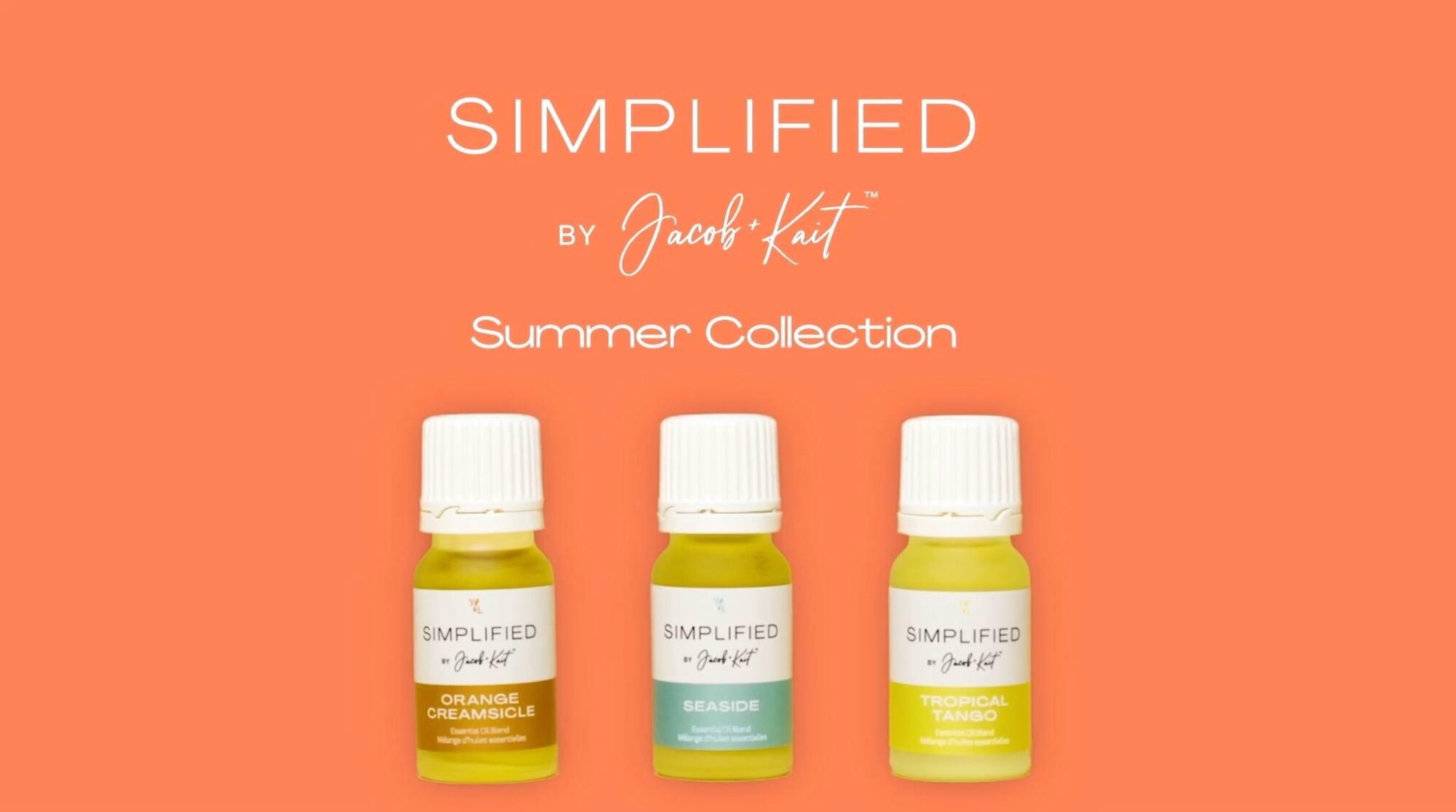 SIMPLIFIED SUMMER COLLECTION
Tropical Tango essential oil blend:
Start by taking your nose on a trip to the tropics with the scents of ripe coconuts, juicy oranges, and fresh-picked florals in our Tropical Tango essential oil blend. Featuring Ylang Ylang from our Finca Botanica Farm in Ecuador, this bright, blissful blend will have you feeling like you're living on island time.
* Has a sweet, uplifting aroma
* Creates a bright, blissful, and enlivening environment
* Transforms your space into a tropical oasis
Orange Creamsicle essential oil blend:
When you want to relive the nostalgia of cool summertime sweets, count on Orange Creamsicle. Made with real Madagascar vanilla, this creamy, citrusy scent will bring back memories of simpler times and summer days spent outdoors with friends.
* Has a creamy, citrusy scent
* Creates an invigorating, cheerful environment • Transforms your space into a poolside paradise
Seaside essential oil blend:
Next, treat your senses to the crisp smell of Seaside. Inspired by the salty ocean air and warm summer nights, this blend is a vacation in a bottle. We made it with Neroli from the blossoms of the bitter orange tree near the Mediterranean ocean.
* Has a cool, breezy aroma
* Creates a fresh, soothing environment
* Transforms your space into a beachside sanctuary
WHY MAKE THE SWITCH
* Make your home smell sun-sationally fresh with three summertime blends.
* Skip the harsh chemicals in candles, room sprays, and air fresheners for naturally derived essential oil goodness.
* Transform your space into an easy, breezy summer getaway in minutes.
* Whip up a signature summer scent without the toxins in conventional perfumes.
* Switch out fragrance-filled reed diffusers for these summery scents or DIY a reed diffuser of your own!
One of the best things about essential oils is that they not only smell incredible, they have a huge positive impact on our health. We can diffuse blends that support immunity, our respiratory systems, healthy sleep, focus and mental clarity, emotional support and more. We can fill our homes with the seasonal scents without burning chemicals or using ingredients that harm our health. AND we can leave our diffusers running when we are out without worrying about it, so our homes smell amazing when we return!
FULL INGREDIENT LIST
Orange Creamsicle: Citrus aurantium dulcis† (Orange) peel oil, Caprylic/capric triglycerides, Citrus aurantium bergamia† (Bergamot) peel oil, Vanilla planifolia (Vanilla) fruit extract, Gaultheria procumbens† (Wintergreen) leaf oil
Seaside: Citrus aurantifolia† (Lime) oil, Citrus aurantium dulcis† (Orange) peel oil, Cupressus sempervirens† (Cypress) leaf/nut/ stem oil, Salvia officinalis† (Sage) oil, Piper nigrum† (Black Pepper) fruit oil, Fucus vesiculosus (Seaweed) extract, Citrus aurantium amara† (Neroli) flower oil
Tropical Tango: Caprylic/capric glycerides, Cocos nucifera† (Coconut) fruit extract, Citrus aurantium dulcis† (Orange) peel oil, Cananga odorata† (Ylang ylang) flower oil, Mentha spicata† (Spearmint) leaf extract
†Premium essential oil
HOW TO USE THE SIMPLIFIED SUMMER COLLECTION
For your home…
* Diffuse any of these summer-scented essential oil blends to turn your home into a summertime getaway.
* Whip up a simple room or linen spray with any of the blends:
* 2oz glass spray bottle (https://amzn.to/3xJ7qin)
* 20 drops essential oils
* Splash of witch hazel (https://amzn.to/3HdgXRT)
* Filtered water
* Place a few drops of one of the blends on a cloth or cotton ball and place in the bottom of a trash can, a drawer, a closet or any other small space that needs to be refreshed.
* Make a lovely DIY Reed Diffuser:
* Glass bottle of choice (check thrift stores for lovely vintage ones!)
* Bamboo skewers or uncoated chopsticks
* 1/4 cup carrier oil of choice
* 1 teaspoon rubbing alcohol
* 40-60 drops essential oil of choice
* Add 20-25 drops of one of the blends to your Thieves Cleaner for a summery twist.
* Add 3-5 drops of your chosen blend to dryer balls to infuse your laundry with a little sunshine.
* Add one of these summery blends to your DIY Laundry Scent Booster
* To a glass jar with a lid add:
* 1 cup epsom salt (https://amzn.to/3k8ILw8)
* ½ cup fine sea salt (https://amzn.to/3k9uyyS)
* ½ cup baking soda (https://amzn.to/3L7dMMF)
* 30 drops blend of choice
* To use, add 2-3 Tbsp directly to the laundry.
* Make this carpet deodorizing powder. To a 4 oz glass jar (https://amzn.to/36L0IOa) add:
* 1 cup [baking soda(https://amzn.to/3L7dMMF)
* ½ cup fine sea salt (https://amzn.to/3k9uyyS)
* 20 drops blend of choice
* Add baking soda and salt to a jar, and mix well. Add essential oils, stir, then place the top on the jar and shake well. Optional: use a small knife or drill to make small holes in the top of the jar. Sprinkle onto carpets and let sit 10-15 minutes before vacuuming!
* Add a few drops of Tropical Tango in your diffuser to fill your space with the island-inspired scents of exotic flowers, creamy coconuts, and juicy fruits.
* Put a few drops of Orange Creamsicle in a USB car diffuser to cheer up your morning commute with the nostalgic scents of summer.
For personal care…
* Dilute your favorite summer essential oil blend with a carrier oil and add it to your evening shower gel, body oil, or DIY bath bomb recipes for a burst of sunshine.
* Use your favorite blend to make some of the simple DIYs linked below! (Summer shimmer body oil anyone?!?)
* Use one of these blends in DIY sugar and salt scrubs for a fresh summery burst.
* Put 1 drop of Tropical Tango diluted with 2–4 drops of V-6 Vegetable Oil Complex into the palm of your hand; then cup your hands around your nose and breathe deeply to transport yourself to an island paradise.
* Breathe in Orange Creamsicle's uplifting aroma straight from the bottle for an aromatic pick-me-up when your day overwhelms you.
* Place a couple drops of Seaside and V-6 Vegetable Oil Complex onto a diffuser bracelet to carry the fresh, soothing scent wherever your day takes you. Since this blend may cause photosensitivity, keep your wrist out of direct sunlight for up to 24 hours.
A FEW NOTES ON FRAGRANCE...
If you turn over your favorite good smelling products, you'll often find the word 'fragrance' in the ingredients. But what is fragrance??
Fragrance chemicals are organic compounds that volatilize, or vaporize into the air, which is why we can smell them. They are added to household and personal care products to give them a scent or to mask the odor of other ingredients. Unfortunately, the volatile organic chemicals (VOCs - think the smell of paint or paint thinner) emitted by fragrance products can contribute to poor indoor air quality and are associated with a variety of adverse health effects. They are pretty much the last thing you want in a product you are burning for ambiance and aroma.
But it gets a little bit worse…. Did you know that to protect trade secrets, makers are allowed to withhold fragrance ingredients, so consumers can't rely on labels to know what hazards may lurk inside those festive scented candles (and room sprays.. and wall plugs… and perfumes.. and cosmetics…). This is called the "fragrance loophole" in federal labeling law. Although all other ingredients in your scented household and personal care products must be disclosed on the label by their specific name, this loophole means that ingredients added to provide a pleasant scent, or to mask a bad one, need only be listed under the generic term "fragrance."
The Environmental Working Group (EWG) reports that, while many popular candles and room sprays contain trace amounts of natural essences, they also typically contain a dozen or more potentially hazardous synthetic chemicals, some of which are derived from petroleum. According to the EWG,
"Exposure to fragrance chemicals can cause headaches; eye, nose, and throat irritation; nausea; forgetfulness; loss of coordination; and other respiratory and/or neurotoxic symptoms. Many fragrance ingredients are respiratory irritants and sensitizers, which can trigger asthma attacks and aggravate sinus conditions."
One example of a harmful ingredient (there are many!) when it comes to fragrance, is styrene, an ingredient added to a wide variety of consumer products. A 2011 finding by the National Toxicology Program (endorsed by the Academy's National Research Council) found that styrene is "reasonably anticipated to be a human carcinogen."
We know only that styrene might be an ingredient in any given fragrance because the International Fragrance Association, an industry trade group, publishes an online "Transparency List" (https://ifrafragrance.org/priorities/sustainability#.U9qfRoBdVss) of ingredients that perfumers say they use in formulas for consumer products. Styrene is one of the 3,000-odd ingredients on the list. According to the EWG,
When you add up the number of products in your bathroom cabinets and under your kitchen sink that contain "fragrance" – and may contain styrene – the total could be many exposures to a substance we now know is "reasonably anticipated to be a human carcinogen."
THIS is why we are so passionate about ditching conventional products and switching to Young Living's clean, effective and safe options! Young Living NEVER uses fragrance in their products - they don't even need to because of the incredible essential oils. All the Young Living products are infused with the highest quality essential oils which not only make fragrance unnecessary, they actually improve our health!
Make a simple switch with a huge impact and fill your home with the scents of summer with these delicious oil blends!