Hello and Welcome to Good Vibes!
Our topic is CONFIDENCE!
Are you tired of feeling insecure and unsure of yourself?
Do you want to boost your self-esteem and project confidence in every aspect of your life?
Where will you be in a year if you don't take action and start building your confidence? 5 years? Don't let low self-confidence hold you back from reaching your full potential.
As a Young Living Brand Partner and entrepreneur, I know the importance of being confident in both my personal and professional life. Essential oils have been a powerful tool in helping me to feel grounded, positive, and strong in any situation. With the right mindset and knowledge, you too can achieve unwavering confidence that radiates in every area of your life.
Developing confidence takes commitment and effort, but the rewards are immeasurable. Imagine walking into a room and feeling empowered to take on any challenge, or expressing your true self without fear of judgment. These are just a few of the benefits that come with building confidence.
Don't let fear and insecurity hold you back from reaching your full potential. Take the first step towards a confident future by exploring Young Living's empowering essential oils and resources. With the right tools and mindset, you can take charge of your life and become the confident, successful person you're meant to be.
Building your confidence is like building muscle. You have to work on it daily. If you don't work on it your mind will work on you and take you down the rabbit hole feeling lack, low self-esteem, and miserable. I am sure we can all attest to going down the rabbit hole a time or two; it is not a place I choose to be.
Why do I share this? Because I was reflecting on where I am at what is holding me back? What is it that I am choosing for my life and my business? Don't get me wrong I do have confidence in many areas and in some areas, I need to build that muscle. Thus the need for this article.
If I am going through this, then so might some of you. In some areas of your life, you excel and in some areas, you don't, right?
In my soul searching I followed my inner guidance which led me to the Feelings Kit.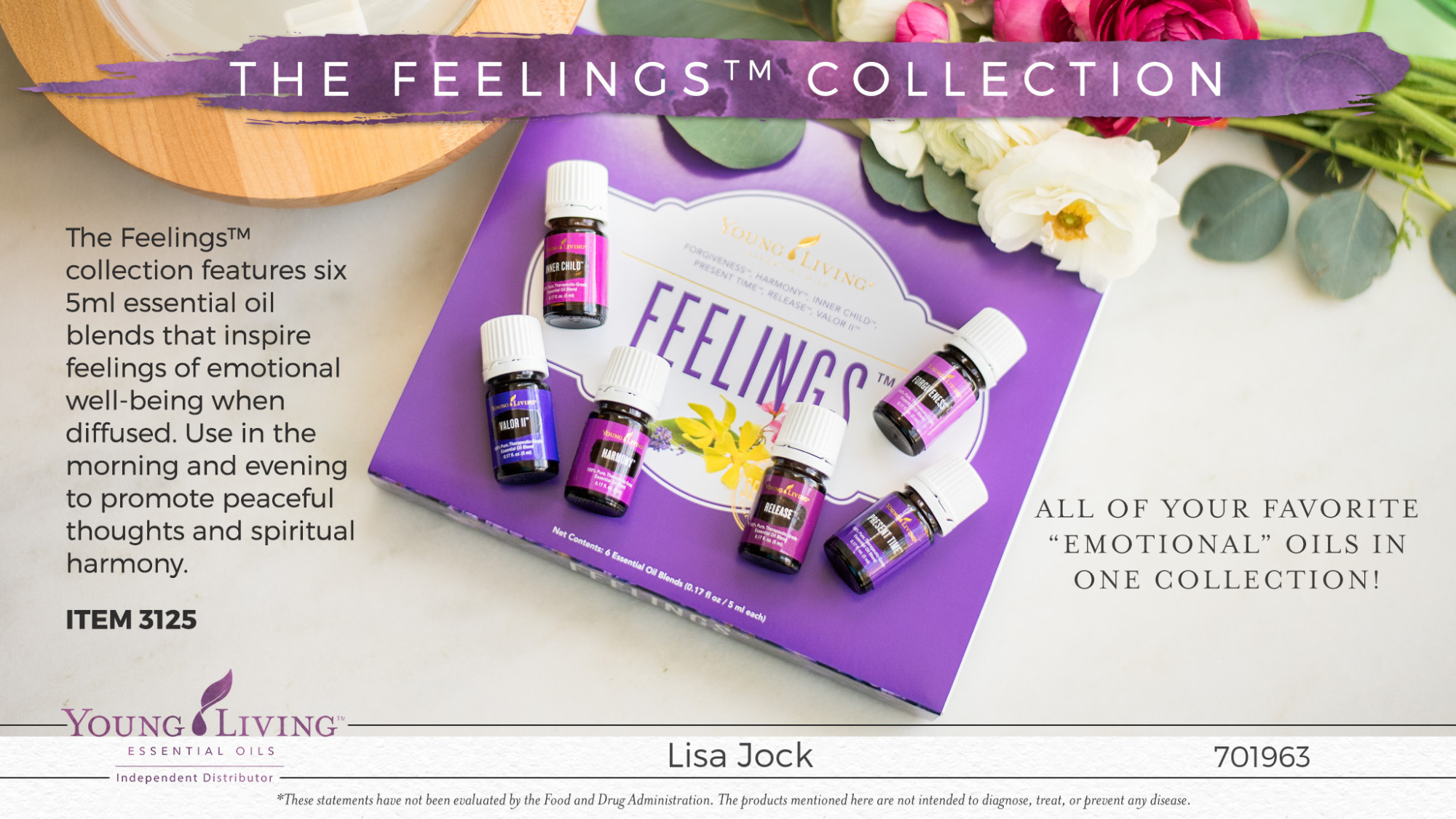 Gary Young, Founder of Young Living, has passed on to the Spirit World created a 30-day protocol using the 7 oils day and night, saying an affirmation and applying each oil in a particular place.
I followed this protocol for 15 days as I end up traveling out of town I didn't have any miraculous happen right away that I knew of but did find I was at peace. What used to bother me I no longer felt burdened by. It was very subtle but very profound. I felt lighter and clear. I will be doing this again.
Maybe right now you are not at a place to purchase this kit, and that Is ok because we are doing a 30-day challenge with just the release oil, and for the first three days, I was weepy. I don't know why and that is ok. We don't have to have everything all figured out. All we need to do is trust in the process and allow whatever to happen.