Aug 8, 2022 09:03 PM Central
Lisa Jock
Thieves Home Spotlight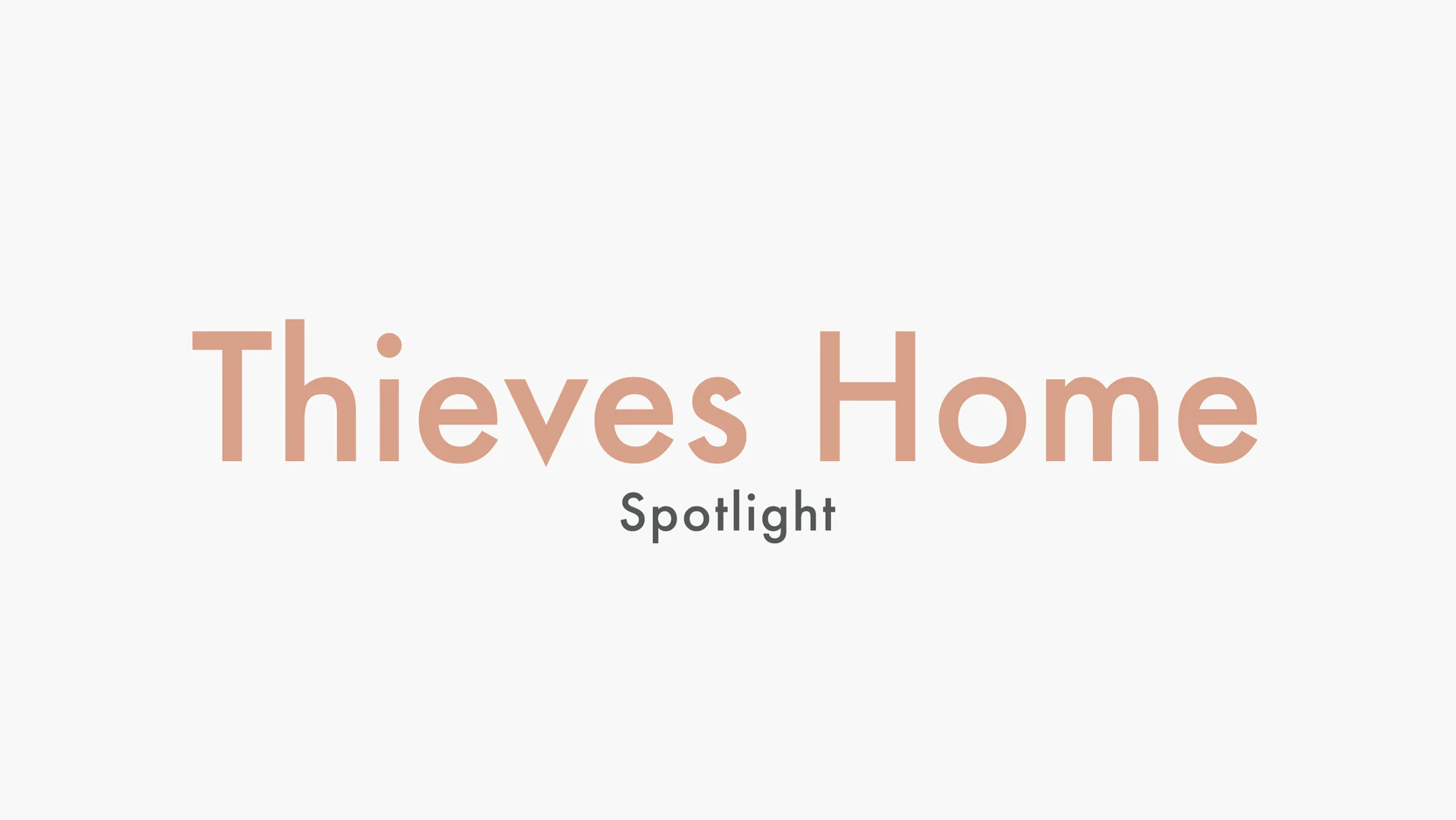 Thieves essential oil is one of Young Living's most popular products, and for great reason. One sniff (or quick PubMed search!) is all it takes to fall in love with this blend!
Young Living offers a complete line of home products infused with the Thieves essential oil blend. This means our homes can be fresh, clean and toxin-free with ease… and smell incredible at the same time! High quality, effective products, sustainable sourcing, and safety for the whole family. That's a winning situation!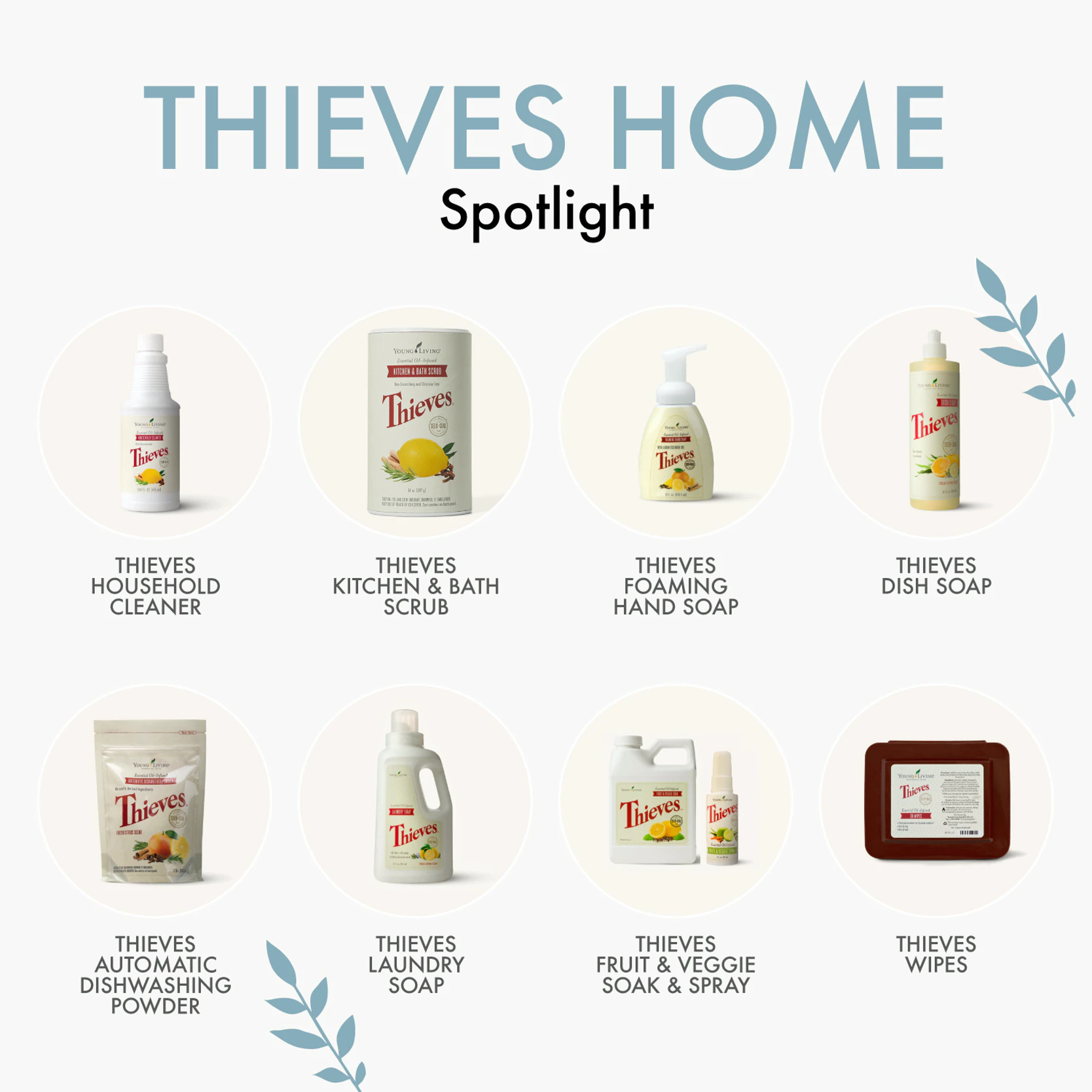 THIEVES HOME PRODUCTS:
Thieves Household Cleaner
Thieves Kitchen & Bath Scrub
Thieves Foaming Hand Soap & Foaming Hand Soap Refill
Thieves Laundry Soap
Thieves Dish Soap
Thieves Automatic Dishwasher Powder
Thieves Wipes
Thieves Fruit & Veggie Soak
Thieves Fruit & Veggie Spray
THIEVES HOUSEHOLD CLEANER Thieves Household Cleaner is the perfect, versatile go-to for all your cleaning needs for a happy, healthy home. This Young Living exclusive includes only plant-based and naturally derived ingredients to effectively clean your home without taking synthetic shortcuts or using potentially harsh ingredients. Plus, the concentrated formula means that one 14.4oz bottle makes 20 spray bottles of standard cleaner! We love this household staple for everything from general cleaning to tough messes to DIYs. Thieves Cleaner is available in two sizes (14.4oz and 64oz) as well as single use packets.
WHY WE LOVE IT
Concentrated formula is easy to mix to create a variety of cleaning solutions for inside and outside the home
Safe to use around children and pets as directed
Provides an effective, deep clean with the power of naturally derived, plant-based ingredients that lift dirt, pet stains, dried-on food, grime, and more
TESTIMONIES
"We love Thieves household cleaner for all of our dog and kid accidents."
"THC the only thing I clean with...floors, counters, toilets, doors!"
"Love that this cleaner is totally safe to use around my babies!"
"Thieves household cleaner is awesome. I use it for everything in my life."
"Thieves cleaner was a game changer for my health. I was using what I thought was a clean product but to find out they had "fragrance" in them. So thankful for these products that we can trust"
"I will never forget learning I would become a mom for the first time, and I was immediately concerned about what we had been cleaning our house with. Thinking of all the hazards on the labels that would hurt our kids so and threw them all out as soon as I found out about Thieves household cleaner! I won't use anything else!"
"The more I use it the more I love it."
"Love the Thieves cleaner! Makes my house smell so good."
THIEVES KITCHEN & BATH SCRUB Thieves Kitchen and Bath Scrub is the perfect naturally derived cleaner: tough on messes and safe for your family! You get the power of a surface scrub without all of the harmful chemical smells and residue in conventional options. Thieves Kitchen and Bath Scrub gains its tough scrubbing power from nepheline syenite, a naturally occurring mineral from Canada; baking soda that gently absorbs odors; sodium percarbonate that releases oxygen when combined with water, providing a powerful boost of cleaning power against tough stains; and Young Living's signature Thieves blend.
WHY WE LOVE IT
Chlorine-free all-purpose cleaner that is safe for use on porcelain, ceramic, copper alloys, fiberglass, Corian, brass, bronze, and chrome
Easily cleans cookware, stove cooktops, countertops, tile, grout, bathtubs, faucets, toilets, backsplashes, barbecue grills, outdoor patio furniture, and exteriors without scratching
Removes grease, dirt, grime, residue, and tough stains from most surfaces without harsh chemical smells or residue
Formulated without harmful chemicals, synthetic surfactants, phosphates, synthetic perfumes or dyes, gluten-containing ingredients, or artificial colors or fragrances
THIEVES FOAMING HAND SOAP Thieves Foaming Hand Soap pairs the Thieves essential oil blend with other naturally derived ingredients for a formula that delivers a gentle clean for the whole family. Instant foam makes it easy to lather and rinse, while aloe, ginkgo biloba, and green tea extracts condition and moisturize skin for soft, smooth hands, making it ideal for even the most frequent hand washers.
WHY WE LOVE IT
Instant foam makes it easy to lather and rinse for a more thorough cleaning
Contains moisturizing ingredients to promote softer, smoother hands
Delivers an effective and gentle clean for the whole family
Formulated with naturally derived, plant-based ingredients
This household favorite is available in three different sizes:

Thieves Foaming Hand Soap, 8oz single
Thieves Foaming Hand Soap, 8oz 3 pack
Thieves Foaming Hand Soap Refill, 32oz
THIEVES LAUNDRY SOAP Thieves Laundry Soap is one of our laundry room must-haves. Safe, effective, eco-friendly and economical cleaning with the power of plants? Sign us up! The Thieves Laundry Soap from Young Living gently and naturally washes your clothes, cleaning them without leaving behind any harsh chemical or residues. Fabrics come out of the washer clean and with a pleasant citrus aroma, thanks to a 100 percent pure blend of Thieves, Jade Lemon, and Bergamot essential oils! Designed to be powerful and efficient, this concentrated 32-ounce bottle of Thieves Laundry Soap can clean up to 64 loads of clothing.
WHY WE LOVE IT
Free from SLS, dyes, petrochemicals, formaldehyde, phosphates, synthetic perfume, and optical brighteners
Safe and natural safe enough to be poured directly onto clothing
Compatible with high-efficiency (HE) washing machines
Can be used as a stain pre-treatment applied directly to fabric
Contains enzymes that combat dirt and stains
Formulated to be a highly concentrated formula - a 32-ounce container can wash up to 64 loads
TESTIMONIES
"So happy with the Thieves laundry soap. Other soaps and their fragrance bothered my husband's lungs and gave my children rashes and eczema."
"Love, love, LOVE this stuff. Best detergent ever."
"This laundry soap is safe enough for our newborn's clothes, yet it can handle the red clay stains on my older kid's knees. I'm sold!"
"It still baffles me that ingredients that are KNOWN carcinogens are still allowed to be used in products. We switched to Thieves laundry soap a couple years ago and love it!!"
"Forever thankful for clean safe products like Thieves laundry soap that do not harm our bodies!"
"I love this laundry soap! We get eczema and some soaps make us break out in severe hives. Since we switched to Thieves laundry soap two years ago we have had no outbreaks at all."
"This is the only laundry soap we use. My hubby has super sensitive skin and everything else gives him hives. I am so thankful I found this."
THIEVES DISH SOAP With naturally derived, grease-cutting ingredients and the fresh, citrus scent of Jade Lemon and Bergamot essential oils plus the signature Thieves essential oil blend, Thieves Dish Soap is the perfect addition to your clean lifestyle. Free of the typical sulfates, dyes, and synthetics found in many dish soaps, Thieves Dish Soap's plant-based formula leaves no harsh chemical residues. The gentle but powerful formula prevents over-drying of skin and will leave your dishes sparkling clean.
WHY WE LOVE IT
Natural, plant-based ingredients clean dishes without harsh chemical residue
Tough on grease and grime but gentle enough to use on baby bottles
Natural cleansing agents decyl glucoside and lauryl glucoside offer a superior clean while being gentle on hands
Free of sulfates, dyes, phosphates, and synthetic perfumes
Can also be used as a spot treatment for laundry stains!
TESTIMONIES
"Thieves Dish soap is all I use for our house!!! Ditched Dawn for this! Love using it on our baby bottles."
"Thieves is the only dish soap I use. I ditched a popular dish soap brand because it left my hands dry and cracked to the point of bleeding. This does the opposite!"
"Thieves dish soap keeps my hands soft and works great for us."
"I love thieves dish soap! So many uses for one product. So glad I made the switch to a toxin free product!"
"I love my thieves dish soap! No worries about any chemical residue to harm my family!"
"I only use Thieves dish soap. Prior to that I used whatever quasi-"safe" options the store had..YUCK!"
"I hand wash my dishes everyday. I love how gentle it is on my skin as well as how great it is at cleaning all my gunky dishes!"
"I use this dish soap in all of my clothes stain sticks!"
"I of course love the Thieves dish soap for my dishes, but I also use it to get stains out of my clothes. Works like a charm!"
THIEVES AUTOMATIC DISHWASHING POWDER The strength of premium essential oils, powerful botanicals, and naturally derived enzymes come together in Thieves Automatic Dishwasher Powder to tackle your dirtiest dishes. This plant-based formula will leave dishes spotless and sparkling without harsh chemicals. Its natural sudsing formula easily removes grime, grease, and food particles, taking the hassle out of dishwashing.
WHY WE LOVE IT
Free from dyes, phosphates, artificial fragrances, and synthetic surfactants
Utilizes a plant-based formula for worry-free cleaning and a cleaner downstream impact
Features soapberry fruit extract, a natural surfactant that contains natural saponins and is hypoallergenic
Powerful combination of enzymes removes dried-on food, grease, oil, and other particles
THIEVES WIPES Thieves Wipes quickly and conveniently freshen small surfaces at home or on the go. The non-greasy, non-drying formula easily cleans everyday items such as kitchen countertops, bathroom seats, or office telephones. Infused with Thieves essential oil blend, Thieves Wipes contain naturally derived, plant-based ingredients for a fast and convenient solution to everyday messes.
WHY WE LOVE IT
Non-drying and non-greasy formula that requires no rinsing
Naturally derived, plant-based formula quickly cleans and freshens surfaces
Formulated without synthetic or chemically derived ingredients
Portable for easy use on the go or at home
Safe to use on surfaces that store food
THIEVES FRUIT & VEGGIE SOAK Thieves Fruit & Veggie Soak combines natural cleansing ingredients—along with Young Living's signature Thieves, DiGize, and Purification premium essential oil blends—to cleanse your produce gently and thoroughly. This exclusive formula is highly concentrated and makes up to 16 gallons of fruit and veggie wash.
WHY WE LOVE IT
Safe, natural way to get the dirt and germs off of produce
Formulated with plant-based ingredients for a worry-free soak
Ultra-concentrated formula allows one bottle to make up to 16 gallons of Thieves Fruit & Veggie Soak
Decyl glucoside, citric acid, and sodium citrate work as natural cleansers that gently and thoroughly cleanse and aid in removing dirt and pesticides
THIEVES FRUIT & VEGGIE SPRAY Thieves Fruit & Veggie Spray offers a quick and easy solution for effectively cleaning produce at home or on the go with naturally derived cleansing ingredients and premium essential oils. Thieves Fruit & Veggie Spray helps remove waxes, harsh chemicals, impurities, surface pesticides, handling residue, and soil safely with only a couple quick spritzes.
WHY WE LOVE IT
Convenient to use on the go - camping, hiking, picnics, anytime you need!
More effective than cleaning with water alone
Contains natural cleansing agents decyl glucoside, citric acid, and sodium citrate, which work together to clean produce effectively
Rinses clean without leaving a chemical residue or affecting the taste of fruits or veggies
Formulated without SLS (sodium lauryl sulfate), petrochemicals, formaldehyde, phosphates, dyes, synthetic fragrances, or perfumes