Sep 4, 2022 09:53 AM Central
Lisa Jock
There are so many ways we can support our health and our bodies on a daily basis. Here are a few of our favorites for mental health support!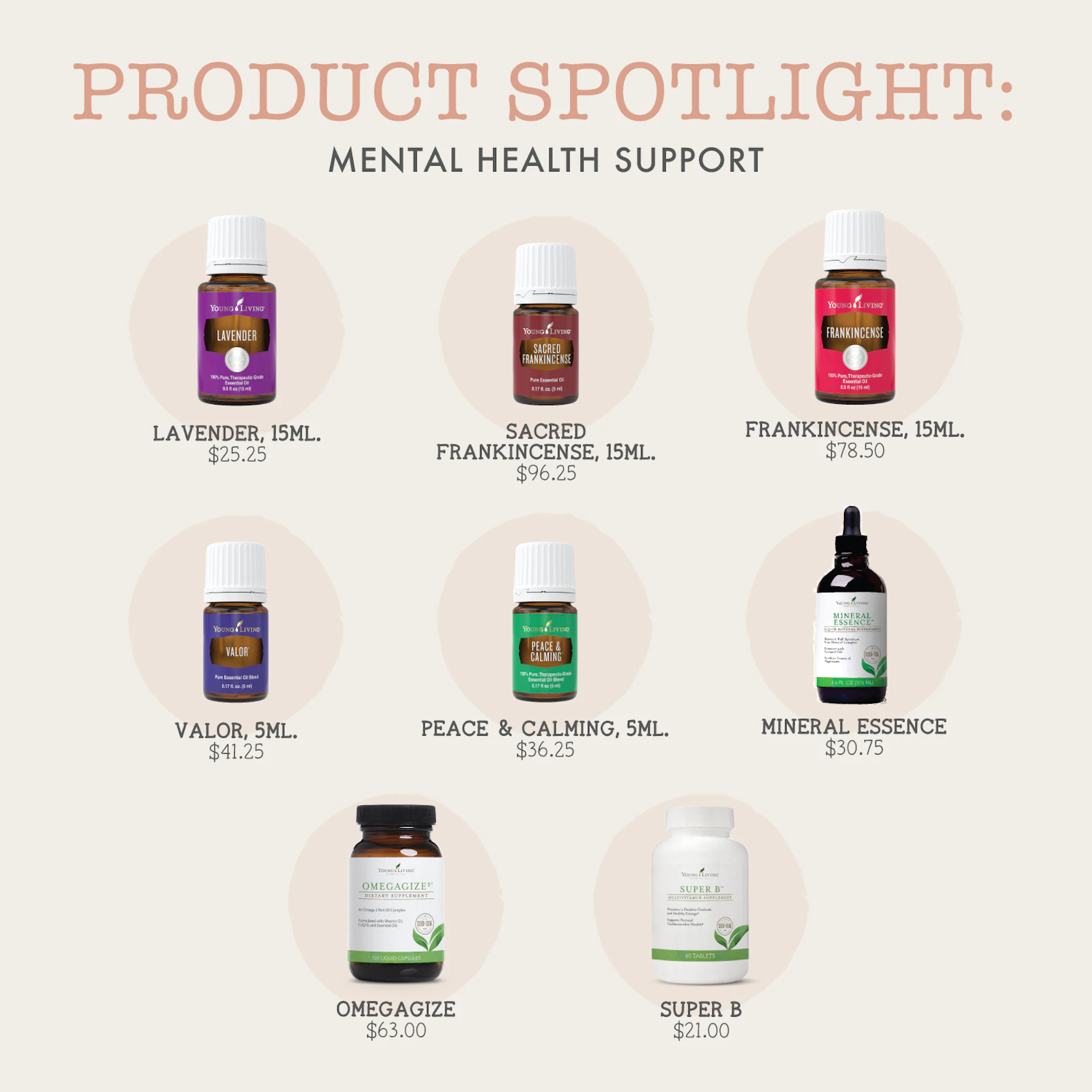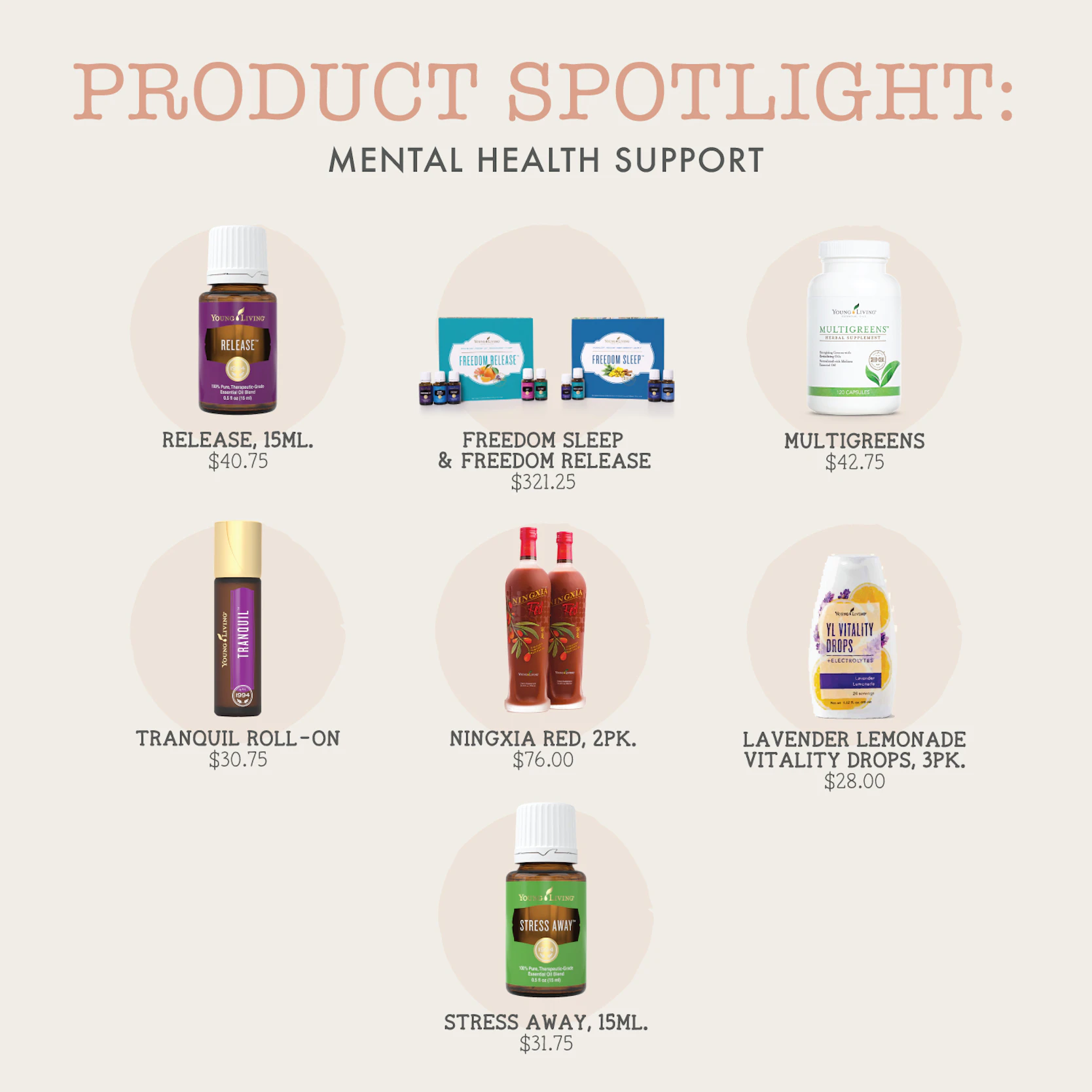 Lavender Lavender essential oil has a scent that's a wonderful blend of fresh, floral, clean, and calm. It's this dynamic aroma that has made the plant a classic for perfumes, soaps, fresheners, and beauty products! Lavender is a great beginner oil and a must for every home, which is why it is a part of the Everyday Oils Collection in the Premium Starter Kit! Lavender essential oil isn't a favorite only because of its classic scent—it's also highly versatile. From skin care products to relaxing routines, this oil can infuse and enhance many areas of your life!
Has a fresh, floral aroma that pairs well with many other oils
Can help cleanse and soothe minor skin irritations
Can be soothing to the skin after a day in the sun
May help reduce the appearance of blemishes
Supports aging skin
Calms and relaxes the mind and body
Soothes seasonal respiratory needs
Sacred Frankincense Regarded as one of the rarest, most sought-after aromatics in existence, the resin used to obtain Young Living's Sacred Frankincense is the first Omani frankincense to be available to those outside of the Saudi royal family. Sacred frankincense (Boswellia sacra) is believed to be the frankincense documented during ancient times. Historically, it is believed that this beautiful, white hojari resin produced the frankincense that was taken to the Christ Child. Sacred Frankincense essential oil has a grounding, woodsy aroma that can be used to enhance your spiritual, meditation, or yoga practices.
Frankincense Frankincense essential oil has long been known for its incredible grounding and healing properties and carries huge historical and spiritual significance. This oil is a must-have for every home because of its versatility!
Frankincense has been used in religious rituals for over 3,000 years. It has been known to enhance immunological function, beautify skin, and increase spiritual awareness.
Promotes the appearance of healthy-looking skin
May help reduce the appearance of uneven skin tones
Has a sweet, honey-like, and woody fragrance
Valor Valor is one of the original blends formulated by Young Living Founder D. Gary Young and is a long-standing member favorite. Each essential oil in the blend was carefully selected for its unique aromatic and topical benefits: Frankincense for its uplifting, earthy aroma and skin-smoothing properties; Black Spruce for its grounded, woodsy aroma; Blue Tansy for its inspiring aromatic profile; Geranium for its sweet, floral aroma; and Camphor Wood for its skin-benefiting properties and strong, herbaceous scent. This powerful, synergistic blend with a transformative aroma has contributed to its strong legacy as a key part of Young Living's proprietary Raindrop Technique.
Breathe from palms for courage and confidence
Diffuse for a grounded environment when relaxing or meditating
Apply over back and muscles to enhance massage or chiropractic adjustments
Wear as a perfume or cologne during work, school, or stressful moments
Add to diffuse jewelry to provide emotional support throughout the day
Peace and Calming Peace & Calming is great to diffuse to create a positive, peaceful atmosphere. A D. Gary Young-original blend, this Young Living exclusive is made with five essential oils, including Tangerine and Orange, which contain some of the highest naturally occurring levels of the constituent limonene. This blend also has Ylang Ylang essential oil, which is steam distilled. Its comforting aroma makes it a great companion for activities like yoga, bedtime, and massage.
Super B Super B is a B complex supplement that is great for maintaining healthy energy levels, supporting mood and cardiovascular and cognitive function. Our current lifestyles often leave our adrenal system (our fight or flight response) on overdrive, and B vitamins are a great way to support that system!
B vitamins are essential to our health and well-being, and each B vitamin performs a unique and separate function, which is why a 'B Complex' vitamin is essential. Unfortunately, B vitamins must be replenished daily, as they are water soluble and therefore not stored in the body. It is difficult to gain all the B vitamins we need from our food, even in the best case scenario. Plus, different medications such as hormonal birth control can wreak havoc on the body's B-vitamin levels, which is why it's especially a good idea to supplement. This is also a great addition to your routine if you are currently expecting or are wanting to grow your family in the near future!
To learn more, click 'Supplement Spotlight: Super B' under "Related Resources" below.
OmegaGize An alternative to Mindwise, especially for those with nut allergies who might have a problem with the Sacha Inchi nut, is OmegaGize. This is another supplement rich in the nutrients needed to feed a healthy heart and brain such as CoQ10. A starving brain and heart malfunction while proper nourishment can promote wellness at any stage of life.
Omegagize combines the power of three core daily supplements-omega 3 fatty acids, vitamin D-3, and CoQ10 (ubiquinone). These supplements combine with our proprietary enhancement essential oil blend to create an omega-3, DHA-rich fish oil supplement that may support general wellness.
Mineral Essence Mineral Essence is a balanced, organic ionic mineral complex that contains more than 60 minerals. Minerals are necessary for vitamins to be properly assimilated and absorbed by the body, making them a vital part of our health! Minerals are necessary for healthy immune and metabolic function, and it has been said that every disease can be traced back to a mineral deficiency!
Trace minerals and Royal Jelly for minerals and vitamins
Lemon essential oil is high in limonene and promotes immune function.
Cinnamon Bark essential oil supports immunity.
Peppermint essential oil supports healthy digestion.
Stress Away Stress Away is your vacation in a bottle - convenient and ready to go with you to the grocery store, school, work, or wherever you need to pretend you're in a beach chair sipping something cold and watching the waves!
Studies show that stress is at the root of more health problems and diseases than we realize and learning to use tools that help us to relax and release negative emotions increases our daily quality of life. Our relationships, future, and health depend on it.
Has a soothing, exotic aroma
Can be diffused or enjoyed aromatically to create a luxurious, spa-like ambience at home
Makes a great addition to your favorite skin, hair, and body care products
Has a well-rounded and relaxing aroma, making it great to use as a personal fragrance
Lavender Lemonade Vitality Drops
YL Vitality Drops feature Lavender and Lemon essential oils and natural electrolytes for an extra hydration boost. Hydration is a key component of overall health - both physical and emotional. When our physical body is run down, our emotions are quick to follow. And vice versa. The mind-body connection is so very real! Adding these electrolyte drops to your daily water is a wonderful way to give your body a little extra TLC.
Provides a delicious electrolyte boost to water
Contains more than 70 naturally occurring ionic trace minerals
Sugar free
No artificial colors
Includes Lavender and Lemon essential oils
Release Release essential oil blend is a powerful emotional tool to help release feelings of anger and often suppressed memories of trauma. Processing and releasing these emotions can have a profound effect on both emotional and physical health! This blend of oils works to release these feelings by stimulating the pineal gland, which connects our sense of smell to our memory and emotions.
Has a powerful aroma that lulls the mind into a sense of comfort
Can be a wonderful emotional tool when used intentionally
High in sesquiterpenes
Featured in the Feelings Collection
Pairs well with Valor, Joy, Harmony, and Orange essential oils
Freedom Sleep & Freedom Release Bundle The Freedom Sleep and Freedom Release bundles are now offered in a single collection! This is the selection of oils to reach for when finding balance is your number-one priority.
Freedom Release collection
15 ml Freedom essential oil blend—Use this complex aroma on its own to help boost your positive energy or combine it with the other blends in this collection to enhance its benefits.
15 mL Divine Release essential oil blend*—Select this warm aroma for your diffuser to harness your most gentle characteristics.
15 mL Joy essential oil blend—Use this bright floral scent to spark—well, joy!
15 mL T.R. Care essential oil blend*—Breathe deep and enjoy this transformative aroma.
15 mL Transformation essential oil blend—Diffuse this herbaceous, woodsy blend when you're ready to swap negative thoughts with uplifting ones.
Freedom Sleep collection
15 mL AromaSleep essential oil blend*—Diffuse this gentle blend at bedtime.
15 mL Freedom essential oil blend—Enhance the blends in this collection or use on its own to feel centered.
15 mL Inner Harmony essential oil blend*—Inhale this luxurious blend when you're seeking balance and spiritual awareness.
5 mL Valor essential oil blend—Feel empowered when you diffuse or apply this grounding scent.
*Collection exclusive oils
Great Day Protocol Incorporating essential oils into your morning routine can amplify your intentions and enhance your feelings of confidence so you can start your day from a place of strength. Layering and blending specific oils in distinct ways can help cultivate the right mindset, focus the intentions and provide an emotional anchor for your day.
That's why Young Living founder, D. Gary Young, put together an empowering essential oil routine, Gary's Protocol. Known for his vision and belief in pursuing that vision despite obstacles, there was never a goal too large or impossible for Gary to achieve. The four elevating oils in Gary's Great Day Protocol embrace this sentiment, and when used together are a powerful way to start each day with intention and empowerment (not to mention, you'll smell amazing).
Valor: The powerful combination of ingredients in Valor delivers strengthening and refreshing qualities, supporting feelings of courage and self-esteem.
Harmony: This spiritual and emotional blend is balancing and calming, and may help reduce occasional everyday stress and discord, by creating harmonic balance in the mind, spirit and body.
Joy: Create a joyful and happy aromatic experience with this uplifting blend of pure essential oils such as Rose, Jasmine, Tangerine, Bergamot and others.
White Angelica: Obstacles and challenges are inevitable as you go after your dreams, but it's important to remember that you have the power to make huge changes in your life. And those changes all begin with establishing an uplifting morning routine to start each day with positivity!
MultiGreens MultiGreens is your daily salad in a bottle - spirulina, alfalfa sprouts, barley grass, bee pollen, eleuthero, Pacific kelp, and more. MultiGreens essentially fuels your system with lots of good stuff to help you feel amazing and increase vitality - much like eating a giant salad does! The nutrient-dense chlorophyll formula is designed to support the glandular, nervous, and circulatory systems, to help with energy levels and provide overall wellness support. MultiGreens is a natural, sustainable energy source for the body and is an excellent source of choline which is critical for energy production and also helps with brain fog!
Provides energizing greens with revitalizing essential oils
Supports overall health and well-being
Formulated with Melissa essential oil
Tranquil Roll-on This Young Living exclusive roll-on contains Cedarwood, Lavender, and Roman Chamomile essential oils for a wonderfully calming and soothing aroma. Cedarwood is especially calming to the brain and central nervous system as it helps brain waves slow from a high frequency, active state to a calmer, focused or even meditative state. Add in Lavender and Roman Chamomile, and you have an incredibly calming blend that is a wonderful addition to your bedtime routine. This blend is also perfect anytime you need to and tranquility to your thoughts and emotions.
Has a soothing, tranquil aroma
Portable, easy-to-use roll-on design for quick application on the go
Prediluted for direct topical application
Apply it to your temples, the back of your neck, or wrists to relax as part of your bedtime routine.
Apply Tranquil over your heart during troubling times for a centering aroma.
NingXia Red NingXia wolfberries have long been renowned in the natural health community and for good reason! Their phytochemical profile is impressive! Polysaccharides, calcium, 18 amino acids, 21 trace minerals, beta-carotene, B Vitamins, Vitamin E, and polyphenols combine for a powerhouse nutrient supplement! NingXia Red is packed full of antioxidants that support immunity, heart and brain health, healthy hormones and insulin levels, cognition and energy levels.